Youngstown All Breed Training Club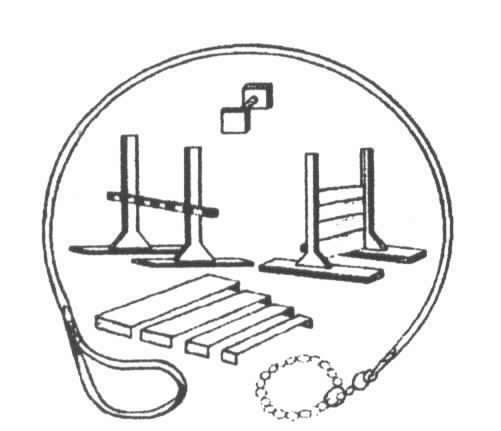 To enroll in an agility class, contact Jo Ann at 330-847-8508 or at agilityclass@yabtc.com.
The Agility Chair at Youngstown All Breed is Rae Reinhart. She may be reached at Agility@yabtc.com
All dogs must not be dangerous to other dogs or handlers. A copy of the dog's shot records and tuition prepayment are required for enrollment in all classes. MasterCard, & Visa now accepted.
Please bring soft treats and a water dish to class. You may also bring a favorite toy or a clicker if you wish.
Please bring a crate to agility and classes.
All dogs should be fit with toenails trimmed. Obese dogs should not be allowed to perform any of the agility obstacles.
Passing of each level is required to move on. Classes are designed as teaching the skills, but additional practice at home is required. Classes can be repeated and each handler should keep in mind that every dog/handler team progress at their own speed.
---
All class are limited to 6 dogs
Agility 1

8 wks

$100

Dogs begin working short obstacle sequences off lead. Dog and handler teams are introduced to basic agility turns. Class is geared towards improving the performance on contacts and weaves

Prerequisite: Beginner Agility

Agility 2

8 wks

$100

This class concentrates on improving the handler/dog team's skill in preparation for trial. Handling skills and maneuvers are taught and practiced. Different agility venues are introduced. An AKC Novice title or its equivalent is needed to proceed.

Prerequisite: Agility 1

8 wks

$100

Handling, crosses, sequencing and distance work. This class is for teams competing at AKC Open level or its equivalent in other venues.

Prerequisite: AKC Novice title or equivalent

Advanced

8 wks

$100

This class is for agility teams competing successfully at the AKC Excellent /Master level or its equivalent in other venues. This is an interactive class where students are expected to contribute to class work by bringing problems, goals and interesting/difficult sequences from recent trials.

Prerequisite: AKC Open title or equivalent
Foundations to Agility

8 wks

$100

This foundation class teaches focus, recall, ability to ignore distractions and building drive. These are skills necessary for any agility team to progress to working agility obstacles. Students are also introduced to free-shaping, luring and targeting. Some introduction to obstacles is included in class work. Class is taught with positive reinforcement ONLY. Please bring a crate, clicker and plenty of treats and/or toys to the first class. A mat or cushion, big enough for the dog to lay comfortably on, will be needed also.

Prerequisite: 4 months of age

Intro

8 wks

$100

Gently introduces the dogs and handlers to each of the obstacles that they will see in AKC style agility. Dogs progress at their own rate. Dogs are expected to be able to work off lead and to demonstrate the skills learned in Relationship class. Soft edible treats and toys are required. A clicker is recommended. Puppies under 10 months will not be allowed to jump higher than 4 inches. No dogs will be jumping their jump height until after their first birthday. It is not recommended for any dog (but large dogs in particular) to jump at their full jump height until after 15-18 moths.

Prerequisite: Dog must be over 6 months of age and have taken Foundations to Agility class

Beginner

8 wks

$100

Continuation of Intro to agility. Dogs will further master obstacles previously introduced. Dogs are expected to be able to work off lead. This class concentrates on improving the dog's skills with all agility obstacles.

Prerequisite: Intro Agility